Healthcare Website Design and Development Company
Arkenea is a custom medical web design company that leads every healthcare SaaS or web application project with the user first approach – ensuring a highly engaging user experience, be it a telemedicine website, EHR or a dashboard.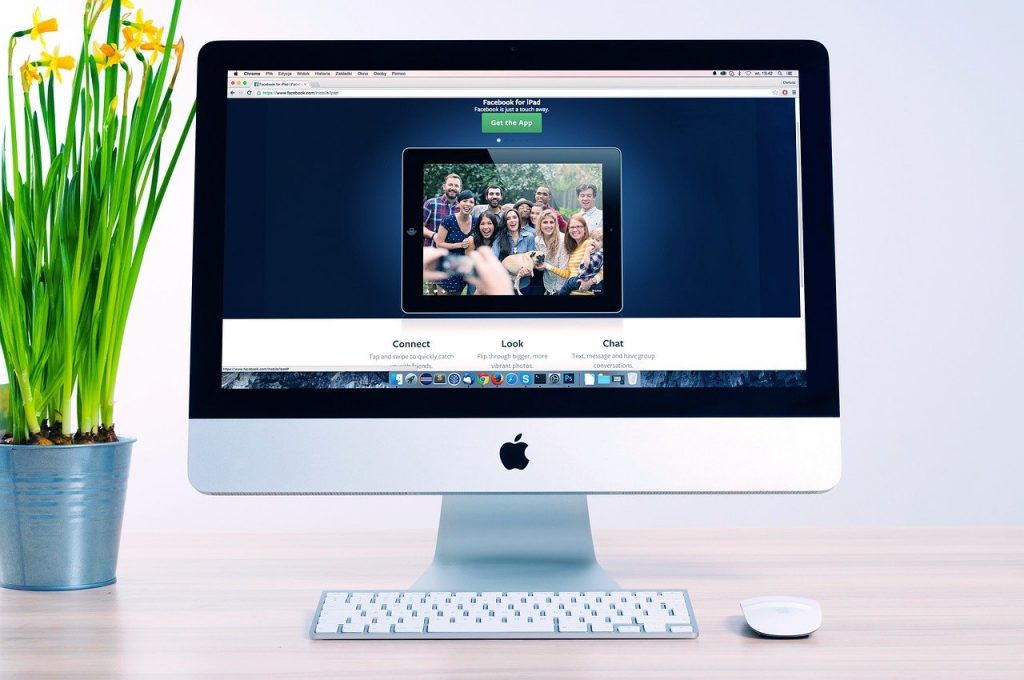 Arkenea delivered a modern, professional website that's so easy to navigate, grandparents can use it with ease.
Medical Web Design Company That Partners With You For Your Success
With 13+ years of industry experience in software development solely in the healthcare industry, we understand your unique requirements like no other. Our team's in-depth knowledge and specialized skills enables us to create custom websites tailored specifically to your needs. We bring your vision to life while complying with all the necessary regulations, security and compliance requirements.
Highlights of Arkenea's Healthcare Website Design And Development Services
Our Medical Web Development Portfolio
Medical and Healthcare Website Development for a Range of Stakeholders
Bring your vision to life with customized medical website design and development services from Arkenea. Build a powerful online presence and showcase your service offerings to your target audience. Our expert website development professionals offer healthcare website development for a range of medical practices and professionals including, but not limited to:
Our Medical Website Development Services
Healthcare API development and integration
Healthcare website design and redesign
Web app design and development
White label healthcare website development
Range of Healthcare Website Development Services
Our Healthcare Website Development Success Stories
With 12+ years of expertise of providing custom healthcare web design and solutions for healthcare businesses of all types and sizes, ranging from medical startups to established healthcare organizations, we understand the intricacies involved in the healthcare industry. Our cutting-edge, full-service healthcare web application development process produces consistent results and success stories.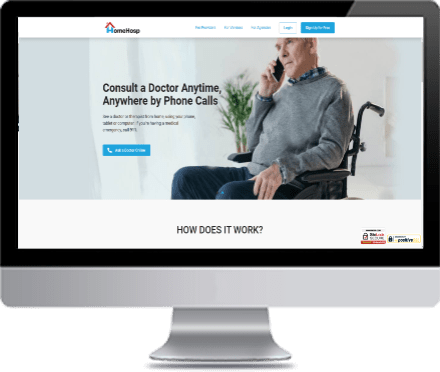 HomeHosp Website Development
HomeHosp project is a fully functional web-based telemedicine application for patients, care providers, vendors and agencies. This HIPAA-compliant web application allows for online payments, video conferencing and chatting via third-party API integrations.
Some of the website's functionalities include scheduling of appointments, inviting family member or care giver to monitor patient health, providers can select billing codes, initiate video conferencing and send ePrescriptions.
Cloud Animal Health Web Application Development
Arkenea developed Cloud Animal Health web application for a group of veterinarians. This web application enables the Primary Care Veterinarian to reach out to the Specialists registered on the platform. The Specialists can be Cardiologists, Neurologists, among others. This teleconsultation application also integrates with a third-party HIPAA-compliant video conferencing API for primary care vets to speak to specialists after booking a consultation with them via the website.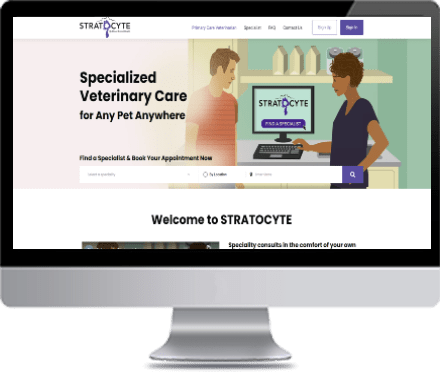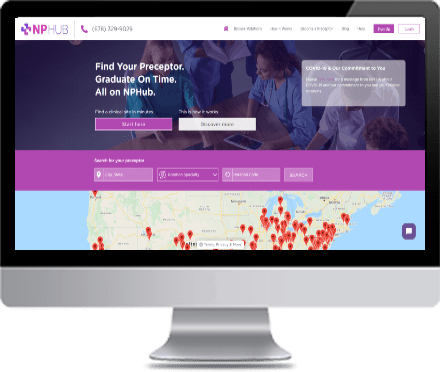 NPHub Website Development
Arkenea designed and developed the NPHub website and application which was launched two years back as an MVP. Today, it has scaled to over $2M in revenues and we continue to support the maintenance and development of the web application.
NPHub website matches nurse practitioner students with preceptors to find clinical rotations. This entire process including payments is handled by the web platform.
Our Healthcare Web Software Offerings
Our Healthcare Website Development Project Engagement Models
Our Healthcare and Medical Website Design and Development Model
1. Requirement Gathering and Business Analysis
Our team of business analysts with expertise of working in the healthcare domain conduct market research and gather business requirements for your project based on your unique needs, outline the scope of the project, plan the functionalities to be implemented within the web solution and give out the cost estimates. 
2. Wireframing and Prototyping
Our team of UX designers analyze user requirements, map out the user journeys and design interactive prototypes and wireframes to ensure that the web solution being developed is interactive and engaging for the end-users. 
3. UX/UI design
The UI designers then transform the interactive wireframes into an engaging interface keeping in mind the website design best practices for healthcare. 
4. Development of Healthcare Web Solution
Our team of dedicated healthcare software developers work on development of the healthcare website while ensuring regulatory compliance like HIPAA and following the security best practices. 
5. Quality Assurance 
Following the principles of Agile Software Development Methodology, quality is not an afterthought but is rather baked into the system right from the start. Our team of Quality Assurance engineers conduct functional, integration, accessibility and security testing of the web application to ensure efficiency, speed, scalability and compliance of the web solution being developed. 
6. Integration with Existing IT Environment
We understand that medical software development does not take place in a silo, so we ensure that the web application being developed integrates with the existing IT infrastructure that you have in place like EHRs/EMRs, patient portals, appointment scheduling software etc. 
7. Healthcare Web Solution Deployment, Support and Maintenance
Arkenea's ongoing support and maintenance services ensure high performance and reliability of your web based applications. 
Why Choose Arkenea As Your Healthcare Web Development Company
Get in Touch for a Quote
Join the ranks of leading healthcare professionals who have harnessed the power of our specialized medical website development services. We're the only 100% healthcare specific software development company in our category. Get in touch with us for a free project consultation and quote.
How To Select The Best Healthcare Web Development Company
We answer some of your most pressing questions when it comes to selecting the right healthcare website development company.
Should I look for a healthcare web development company near me?
Custom healthcare website development can happen out of any location. You do not need to hire a web development company near you. Whether you're looking for a web development company in New York, Chicago, Houston, San Francisco or Florida, it doesn't matter where they're physically located there. When clients hire Arkenea, they're not looking for a web development company near them, but rather a company that has years of experience in healthcare website development, who can deliver a solution for their business needs. Arkenea is among the only 100% healthcare website design and development company in the United States.
What areas do you serve with your healthcare web development services?
Arkenea offers a wide range of healthcare website development services – catering to startups and enterprises across the healthcare space. Whether you're a medical practice, a hospital, a clinical trial company or a healthcare SaaS company, we have 11+ years of experience delivering HIPAA-compliant web applications across the spectrum. Some of the web applications we've developed include telemedicine web applications, EHRs and EMRs, clinical trial management websites, practice management websites, etc. See more case studies here.
What is the one thing that I should look for in a healthcare web development company?
The single most important factor for any successful healthcare website development project and a successful relationship between the client and the website development company is whether the healthcare web developers pay attention to detail by creating a functional specifications document. This is an extremely crucial step required in any custom software development project and Arkenea ensures our web design process starts with this document so there are no assumptions in the scope of work and all the features, functionalities and workflows for the website are designed and developed as per client expectations.
Do you build healthcare websites on WordPress platform?
While we build complete custom healthcare websites from the ground up and there are several benefits to doing so, we also help our clients with WordPress web design and development. We can help you build an eCommerce healthcare website using WordPress and WooCommerce or a membership or subscription website too. If you can think it, we can build it. Get in touch with us for a quote today.
What is the cost of healthcare website development?
The pricing completely depends on your requirements. The cost of healthcare website development is dependent on a number of factors: size and scale of the project, the features and functionalities, different user types, third-party integrations, etc. Get in touch with us today for a free quote for your website development project.