Key Takeaways
As per a survey, remote patient monitoring software significantly increased care coordination by 27 percent, and reduced hospital readmissions by 15 percent.
Remote patient monitoring software improves patient outcomes as it reduces medication errors, thereby eliminating chances of fatalities and hospitalizations.
Patient monitoring devices can be connected to RPM software to keep track of patient's health. These devices give timely updates to providers and alert them during emergencies.
The demand for remote patient monitoring software is growing since the onset of the Covid-19 pandemic. The urgency to curb the infection rate has fueled the need to adopt remote care options among the people.
Healthcare software development companies are working to develop unique and patient-centric remote patient monitoring software. This article highlights all the necessary aspects needed for remote patient monitoring software development.
Remote Patient Monitoring Software: Market Overview
The US remote patient monitoring (RPM) system market is estimated to garner a CAGR of 18.2 percent during the 2022-2030 timeframe. A significant rise in chronic conditions in the USA is driving the remote patient monitoring market. According to the CDC, six in ten Americans live with at least one chronic illness such as diabetes, cancer, stroke, and heart disease.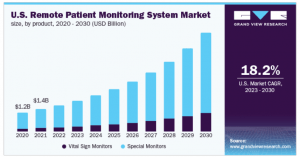 Patients suffering from chronic diseases are given timely assistance via the RPM system. Further, the Covid-19 pandemic resulted in a shortage of space in hospitals and clinics, especially for those diagnosed with chronic ailments.
With the adoption of remote patient monitoring software, patients can be taken care of from their homes and avoid physical visits to hospitals. Remote care is advised for those patients who are at risk of contradicting infections, especially the geriatric population.
One of the major hindrances to the RPM system market is data security and privacy concerns. It's essential to safeguard the ePHI (Protected Health Information) as it contains vital information about patients such as social security numbers, addresses, names, and contact details, which can be used against them.
However, with more and more people suffering from chronic diseases and a steady rise in the geriatric population, the remote patient monitoring system market is expected to produce lucrative opportunities in the coming years.
In-Demand Types of RPM Software
1. IoMT-Based Applications
IoMT (Internet of Medical Things) collects data through various devices and sensors and sends them to the cloud where it is processed and analyzed. This data is useful to improve patient outcomes and provide required care. Remote patient monitoring is connected to IoMT devices to supervise patient health.
Internet of medical things tracks and monitors the health of patients via wearables. This is an effective care option for people suffering from severe heart conditions, as doctors are immediately alerted in case of any fluctuations in heart rate or blood pressure. Further, RPM helps to monitor medication intake and patients are alerted if they miss out on their dosages.
2. Telehealth
RPM is paired with telehealth to monitor the health conditions of patients. It helps to prevent healthcare complications for patients who aren't able to travel to hospitals and clinics. Diseases and symptoms tracked via RPM are:
Diabetes
High blood pressure
Weight loss or gain
Sleep apnea
Heart conditions
Asthma
Chronic obstructive pulmonary disease
Telehealth or telemedicine solutions are built with several features such as video conferencing, messaging, e-prescription and refills, medication reminders, IoMT device connection, and so on. Through these features, it's easy for doctors to keep track of their patients remotely.
Varied Solutions of Remote Patient Monitoring Software
1. Cardiac Monitoring
High healthcare costs and a need for quality heart care have led to the development of remote patient monitoring software. The RPM software use devices to remotely gather and send data to healthcare facilities for diagnosis and monitoring. These devices monitor vital signs such as heart rate, blood pressure, and ECG.
The data collected from RPM helps nurses to offer better care when they visit patients at home. Remote patient monitoring software development can improve the quality of life of patients suffering from heart failure. According to research, implementation of RPM systems reduces the likelihood of experiencing a cardiac hospitalization and ED visit.
2. Pregnancy Monitoring
RPM allows pregnant women to track their health from the comfort of their homes, thus limiting clinic visits and contact with the outside world. Moreover, women can book an appointment as per their schedule and can better engage in monitoring their healthcare. At home, women can take blood glucose and blood pressure readings regularly. They can even track their conditions multiple times a day.
According to the CDC, 1 in every 12 to 17 pregnancies are complex due to rising blood pressure. High BP can lead to dangerous complications for the mother and the baby, hence it's vital to control BP numbers. With pregnancy monitoring via RPM, women in their third trimester and beyond can keep a track of their BP, gestational diabetes, and other aspects related to pregnancy.
3. Baseline Signs Monitoring
Remote patient monitoring software also keeps track of basic physiological parameters such as BP, blood glucose, oxygen levels, temperature, and more. These parameters are evaluated with the help of smartwatches, compact trackers, and wearables.
The data collected is then transmitted to medical providers for further treatment and diagnosis. Additionally, AI-based tools allow healthcare providers to view the complete picture of physiological parameters and determine how it affects patients' health.
4. Depression and Mood Monitoring
Mental illness varies depending on circumstances, disorder, and other aspects. It impacts behavior, emotions, and thoughts. The most common signs of mental illness such as depression are loneliness, suicidal thoughts, lack of concentration, sadness, etc.
Several of these signs and symptoms can be tracked via RPM software. This software uses wearables and sensors to measure patients' physiological data.
This data is then transferred to psychologists who monitor their patients and provide them with an adequate treatment plan. Parameters such as sleep, heart rate, temperature, and motion are covered by the depression and mood monitoring RPM system.
5. Asthma and COPD Monitoring
Patients diagnosed with asthma and COPD (Chronic Obstructive Pulmonary Disease) can make use of RPM software to record their vitals daily. Physicians can keep a track of asthma attacks and breathing control remotely.
In case of emergencies, physicians are alerted via RPM software. This software is a useful tool to encourage people to stick to their treatment plans through daily reminders.
Benefits of Remote Patient Monitoring Software
1. Better Quality of Care
Healthcare providers and patients can connect directly with each other through remote patient monitoring software. Continuous contact with healthcare providers allows patients to discuss their medical issues in-depth and work towards their betterment.
Healthcare facilities are investing in RPM software as this offers a proactive method to improve care quality. It not only allows doctors to stay in touch, but also reduces hospitalizations, adverse outcomes, and readmissions.
According to a survey, a remote patient monitoring system significantly increased care coordination by 27 percent, reduced hospital readmissions by 15 percent, and improved patient engagement by 32 percent.
2. Reduction in Healthcare Expenses
According to the AMA (American Medical Association), health spending in the USA increased by 9.7 percent in 2020 and this growth rate was higher as compared to 2019 (4.3 percent). The significant rise in healthcare spending can be attributed to the Covid-19 pandemic.
Remote patient monitoring software development is a plausible solution to decrease the substantial rise in medical expenses. Hospital readmissions are costly as it leads to double checkups, tests, usage of resources, and more.
However, with the usage of RPM, hospital readmission rates can be curbed, thereby minimizing care expenses. Further, RPM prevents burnout of nurses and doctors, thus ensuring quality care.
3. Improved Patient Outcomes
RPM software improves patient outcomes by eliminating medication errors. Automated prescription alerts and medication reminders help to detect and correct medication errors if any. If errors aren't identified then it can lead to adverse health conditions, hospitalizations, and disability. Thus, deteriorating overall patient outcomes.
Education strategies to make patients aware of their health and wellness also contributes to positive patient outcome. Educational content pieces can be incorporated during remote patient monitoring software development.
According to the AAFP (American Academy of Family Physicians), patient education is the process of influencing patient behavior and changing their attitude to maintain health.
In the case of chronic diseases, patient education contributes to the wellness of patients and better chronic disease management. Knowledge of health conditions directs patients to take the necessary steps for improved outcomes.
Features of Remote Patient Monitoring Software
1. Compliance
The remote patient monitoring software uses a variety of applications and devices to connect to physicians' clinics. This complex system increases the chances of cyber-attacks and data breaches, resulting in the leakage of vital ePHI. So, to eliminate the chances of data breaches, the RPM software must be safeguarded.
Ensure that the vendor chosen to work with incorporates compliance rules such as HIPAA during the remote patient monitoring software development. HIPAA rules ensure ePHI security and privacy through user authentication, firewalls, physical safeguards, and data encryption.
Additionally, healthcare organizations can consider using FDA-compliant RPM systems as well. The FDA assures that the data collected is accurate through regular testing and audits.
2. Reminders
Automated patient reminders reduce the strain on the front office. The key aim of the desk staff is to manage patients waiting for their checkups, ensure that they're comfortable, and confirm their appointments via calls/messages. Automated reminders reduce this strain and free up staff to attend to the urgent needs of patients.
Reminders augment patient satisfaction as they aren't disturbed by phone calls during their busy hours of the day. A simple text message about their upcoming appointments which they can respond to at their convenience is preferable.
With reminders in place, the chances of patients forgetting an appointment minimize, thus reducing no-show rates. Doctors can also manage their routines seamlessly with fewer no-shows and cancellations.
Apart from this, reminders can be customized to include essential details of an appointment such as date, time, medical condition, and whether it's an in-person visit or virtual one. Sending out reminders boosts patient engagement, from follow-up instructions to treatment plans to chronic care management to medication reminders, healthcare organizations promote patient engagement.
Furthermore, patients who book virtual and in-person visits benefit from a simple text message a day prior to hospital appointment. This way, they can spare time from their busy schedule to go in for a check-up or connect to a stable network for virtual visit.
Sometimes, there are chances of poor network connectivity or no coverage area during virtual visits, however reminders ensure that patients look for a stable connectivity prior to their appointment. Thus, assuring seamless healthcare check-up.
3. Educational Content
Patients are curious about their wellness and health conditions. Hence, they are constantly looking or scrolling through online material. By installing educational content features in the remote patient monitoring software, patients can easily browse through the materials and get a grasp of their conditions.
Even healthcare providers can make use of this content to stay updated about the technological and medical advancements in the healthcare sector. Consider providing value-based content as it keeps patients and doctors engaged, and boosts the usage of the RPM software. Educational content can be offered through subscriptions or made available for free, depending on revenue models adopted by healthcare development companies.
4. Communication Tools
HIPAA-compliant video conferencing ensures seamless interactions between doctor and patients. Secured messaging and video calls reassure patients that their health conditions are kept confidential.
Robust communication channels attract more patients as they can connect with their providers at any time at their convenience. Additionally, HIPAA-compliant communication channels offers end-to-end encryption, thus practitioners can send and receive medical data without the fear of data breach.
A secure interaction established during video conferencing protects vital ePHI and other confidential data. It also confirms that a secure and genuine communication has been made to the correct server, and not to a fake one. Additionally, HIPAA-compliant video conferencing ensures that if a secure connection isn't established, then the unsecured video interaction will not take place.
5. EHR Integration
EHR (Electronic Health Records) integration with remote patient monitoring software ensures that data is saved on both platforms. Healthcare providers can track medical conditions and vital in real-time on a single platform.
EHR integration eliminates duplication of data on multiple platforms, thus reducing costs. Also, the link between RPM and EHR helps providers to identify risks and avoid medical emergencies. Thus, preventing unnecessary hospital readmissions.
Along with this, EHR systems are designed to receive patient referrals, which speeds up the patient onboarding process.
6. Connected Devices for Patient Monitoring
Several patient monitoring devices can be connected to the software to keep track of patient's health. These devices give timely updates to providers and alert them during emergencies.
Some of the connected devices for patient monitoring are glucometer, pulse oximeter, wearables (activity and fitness trackers), thermometer, scale, and many more. These connected devices help patients engage with their health better, thus eventually experiencing a positive health outcome.
7. Medical Data Tracking
Remote patient monitoring software is capable of tracking medical data continuously. It provides a clear picture to doctors of patients' health conditions. Metrics to include during remote patient monitoring software development are:
Blood glucose levels
Pulse
Blood pressure
Body temperature
Oxygen saturation
Breathing frequency
Medication intake
Physical activities
Stress levels
This is a non-exhaustive list and depends on the type of connected device. Metrics can be customized as per patient requirements and illnesses.
8. Data Transfer and Analytics
The patient data is end-to-end encrypted and then transferred to storage sites or the providers' system. Remote patient monitoring software provides advanced data management and analytics solution.
The development of RPM software with artificial intelligence and machine learning helps to predict the future medical conditions of patients, based on the data available. AI algorithms are useful in identifying disease patterns via predictive analysis. This helps to maintain population health and prevent pandemic-like situations.
9. Data Storage
Patient information is obtained from connected devices such as wearables, smartphones, thermometers, pulse oximeters, etc. RPM offers direct connectivity to the cloud storage for healthcare IoT devices. Medical data can be stored in the cloud, which can be accessed by providers with a stable network connection.
Further, blockchain can be incorporated into the cloud computing system to prevent data loss and ensure security. End-to-end encryption provides an additional security layer during data transfer and storage.
Process of Remote Patient Monitoring Software Development
1. Partner with a Healthcare Software Development Company
Partnering with the experts in the field is an added advantage as they are aware of all the latest trends and technologies related to their field.
So, for healthcare organizations looking to develop remote patient monitoring software, the first step is to find a reliable and able healthcare software development company. Their expertise, experience, and knowledge in the healthcare sector help to develop software that suits your organization.
Outsourcing technical talent saves tons of money and also ensures on-time delivery. Furthermore, healthcare development companies are aware of all the rules implemented in the medical sector to safeguard ePHI, hence making it easier for them to develop RPM software.
2. Research and Planning
This stage covers aspects such as:
Selection of the target audience
Cost estimation or budget
Project scheduling and timeline
Requirement gathering and resource allocation
Building a team
3. Design Phase
With all the requirements in place, it's time to start designing the software; how it will look, and what will be its functions. Consider developing a healthcare prototype before finalizing the software version.
Prototypes are a great way to spot bugs, defects, and unwanted features through feedback from the target audience. Developers create simple wireframes to showcase how the software works. This can be presented before stakeholders and investors for funding and approval.
4. Coding
The software developers transform the product's architecture and design into a functional application as per requirements. Remote patient monitoring software is developed in such a way that it can be used across multiple platforms: iOS or android and desktop or mobile.
An interoperable system is created for the system to work as a whole. Software developers make use of varied methodologies such as Agile, Waterfall, or DevOps to design the best plausible solution for their clients.
5. Testing
Post coding stage is the testing phase in which the RPM software is checked for defaults, operations, and overall functioning. This is a continuous process and all features are verified before the final launch.
6. Launch and Maintenance
Once the remote patient monitoring software development process is done, it's time for its launch and maintenance. Healthcare developers are constantly working to keep the software working after its launch in the market. They update features and functions as per user needs and market trends.
If you're looking to build RPM software for your healthcare facility or need help creating any other healthcare software, then connect with Arkenea. With over 12 years of experience in healthcare software development, our team of experts is trained to deliver innovative software for your facility.