The healthcare SaaS market is at an all time high, and is projected to garner a CAGR of 17.9 percent during 2021 to 2028 timeframe. SaaS is a popular technology across financial services, information technology, and analytics, but its role in the healthcare sector is a game changer.
Healthcare SaaS application is integrated over multiple medical solutions such as EHR/EMR, telemedicine, hospital management systems, and much more. Adoption of SaaS in the healthcare sector has enhanced flexibility, scalability of operations, lowered software deployment costs, and increased ROI (Return on Investment).
There's a complete guide on custom healthcare SaaS application development, so this article will cover all the bits and pieces of costs involved in healthcare SaaS development.
Aspects Impacting Healthcare SaaS Development Cost
1. UX/UI Design
According to Upwork, UX/UI designing costs range from $25 to $39 per hour, costing around $3000 to $5500 overall. A variety of aspects depend on UX/UI designing expenses such as project scope, experience of designer, amount of testing needed, complexity, and designing company itself.
UX/UI designing process is time consuming and laborious, hence it is bound to be expensive. The very function of UX/UI is to help users navigate smoothly through application, and create a satisfactory experience while using an app. Hence, UX/UI is a crucial investment and it's vital to understand what to consider while determining budget for it.
Designers follow certain steps to determine the overall budget such as product research, conceptual design, and detailed designing, to execute the final product.
2. Technical Architecture
Within technical architecture, facets determining cost and the development process are scalability, API integrations, frontend development, backend development, and multi-tenancy.
The more complicated a healthcare SaaS application is, the more efforts and integrations are required to implement it. Thus, increasing the cost of healthcare SaaS development as well.
Front-end development takes around 200 to 600 hours, and SaaS developers are responsible for creating the look and feel for users, via frontend development. At the frontend, developers take UX/UI designs and convert them to CSS, HTML, and JavaScript codes, and generate SaaS app's frontend.
Moving on, the backend software development takes around 800 hours, and major reasons that can affect cost at backend are the need to purchase third-party tools, datasets, libraries, and databases.
Another aspect hampering expenses is the hosting fee for SaaS application, and hosting depends on the capacity and size of the server, along with traffic received on app or site servers. Number of hours taken to create the technical side of the app affects costs of healthcare SaaS development too.
3. QA Testing and Launch
Every healthcare SaaS application undergoes rigorous testing to check for issues and resolves them. The complexity, duration, and time required to fix all bugs adds on to the healthcare SaaS development costs.
Tests to consider while determining expenses are usability testing, A/B testing, code quality, multivariate testing, security, user experience, etc. Additionally, platform selection for launch impacts cost of SaaS app, because content remains the same, but UI/UX designs undergo changes as per platforms.
4. SaaS Product Planning
For a simple healthcare SaaS app, product planning takes approximately 40 to 250 hours; the more complex a SaaS application is, the more time is invested in planning out all functionalities and integrations, thereby impacting development expenses as well.
Consider working with experienced developers and designers to plan out healthcare SaaS development costs, because it helps to make sound decisions before commencing project development. Defining business goals, target audience, and objectives for healthcare SaaS development helps to refine budget plans accordingly, leaving no room for surprise bills.
5. SaaS MVP Development
MVP (Minimum Viable Product) development helps to create a product that's validated in a market when launched, and is useful in rapidly launching products in the market. To correctly assess SaaS MVP development costs, have a robust development team of business analysts, backend architectures, and product designers.
The team will help to accurately state their requirements, based on which total cost can be estimated. It usually takes around 3 to 6 months or 300 hours to develop MVP, and monthly team expenses ranges from $25,760 to $36,960.
6. Business Logic
Business logic acts like a code and creates real-world business rules and determines how data is changed or formed. In programming, business logic refers to the layers which behaves like an intermediary for data exchange between DAL (Data Access Layer) and the presentation layer.
Along with this, it also includes expected outcome and purpose of an application that meets target audience demands. In healthcare SaaS development, business logic comprises of complexity of SaaS, number of team members, size of application, tech stack, and external integrations.
7. Features and Integrations
Core features and integrations are two different aspects, so start off by listing all essential features and integrations to prepare budget for them. Developers can encounter several variables during healthcare SaaS development, hence consider balancing out core features and integrations at the start.
Look at the features and integrations from an objective perspective, for instance the technical viewpoint includes feasibility and scalability of app features/integrations. Post this, consider scrutinizing whether users want it or is there a need for it, and whether it will make a product more valuable or not.
Lastly, think along the lines of whether these features align well with business strategy and market. This will help to narrow down the list to core features and integrations, indirectly helping to set a fix budget for the essential ones.
Cost of Healthcare SaaS Development
1. Cost Based on Type of SaaS Solution
There are different types of SaaS models, two main types include vertical and horizontal SaaS. A horizontal SaaS is used by established service such as Microsoft, Salesforce, Slack, etc. The horizontal model caters to a range of customer base and industries to keep businesses running efficiently.
On the other hand, the vertical SaaS model targets a niche industry such as trade, insurance, healthcare, etc. It creates solutions for niche industry's needs and issues.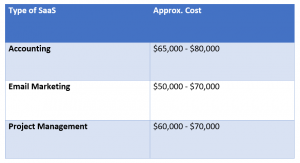 2. Cost Based on Complexity of SaaS
Adoption of SaaS continues to skyrocket in the healthcare sector. Interconnectivity of SaaS apps, its security coverage, and its visibility within an organization points out the importance of SaaS in the healthcare industry. However, due to myriad of features, roles, and functions associated with it, healthcare SaaS software has become complicated than ever.
Its complexity has increased due to challenges posed during the development and post launch stages, which includes data loss, higher costs, and compliance.
A healthcare SaaS platform isn't developed for single use, but is rather integrated with other systems such as medical billing, patient portals, EHR, etc. which adds on to its complexity. The more the complexity of SaaS, the higher the cost.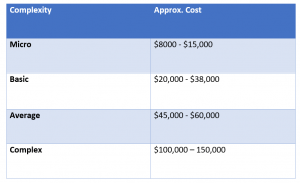 3. Cost Based on Development Team Location
An average healthcare SaaS development cost varies from region to region. The most famous app development locations include Asia, Latin America, North America, and Eastern Europe.
The highest development costs are required for vendors form the USA, on the other hand Eastern Europe and South Asia offers the same development services with good quality at a lower cost.
4. Cost Based on Type of Team
Upon finalizing business goals and project type and size, it's time to select a development team. Remember that every team requires 3 key members: developer, tester, and project manager.
Further, type of development team is classified into an outsourced company, in-house team, freelancers, and local agent. Each of these have different price ranges, for instance an in-house team can be expensive as compared to outsourced one because there's a payroll system in place for an in-house team, along with other perks such as health insurance.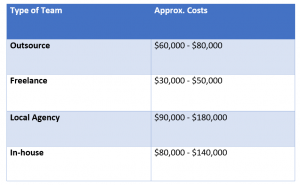 Hidden Costs of Healthcare SaaS Development
1. Marketing
Marketing budget covers costs ranging from product promotion, advertising, and public relations. Amount varies depending on annual sales, size of business, and competitions' advertising coverage. Approximately newly launched healthcare apps may spend 50 percent on introductory marketing a year before app launch, and match up as per their competitors.
While setting a marketing budget consider including percentage-of-sales revenue, and the allocation can go up to 9 to 12 percent of the annual budget. Further, small and medium app development companies can try the dollar approach in which prices are decided on how much a development company can afford.
Lastly, marketing plan objectives method is the most effective one as the budget is determined by anticipating expenditures required to fulfill marketing objectives.
2. Maintenance
Healthcare SaaS application maintenance requires additional expenses, and the cost can reach 50 percent of the total development cost in the first year itself, however it significantly decreases over year after year.
Maintenance expenses is based on operating systems, for instance costs are lower for an iOS or Android phones. Approximately, healthcare app development companies need to spend $200 to $550 every month initially to keep the app functioning.
3. Consumer Support
Consumer support is a crucial aspect after app launch, because users often have queries and they tend to run into issues, and customer care group is expected to provide that support.
A customer support application helps to respond to requests and questions, and offer the necessary education to users, along with all the technical support. Investment are needed to establish a customer support service, which can vary as per team, software used, and product.
4. Legal Formalities
Legal formalities such as compliance costs ideally increase as a result of local, national, and international regulations. For healthcare SaaS development, HIPAA (Health Insurance Portability and Accountability Act) and HITECH (Health Information Technology for Economic and Clinical Health) compliance are mandatory rules to be followed.
With shifting regulations, compliance costs differ as well; in the USA, development companies assure compliance for fraud, data breaches, money laundering, etc. Additionally, development companies can turn to enterprise level systems to decrease headcount.
5. Refactoring
The idea behind refactoring method is that a code is written that's good enough to pass basic testing, the developers go back to clean it at a later date.
During the initial development stage that specific code might be good enough, but as app scales it needs to be rewritten to manage new traffic. Scalability indicates that the app is growing, but the development company needs to analyze expenses ahead of time, that's where refactoring comes in the picture.
Ways to Reduce Healthcare SaaS Development Costs
Headcount is precious when healthcare development companies expenses reach millions. This is when hiring full-time employees enhances overhead costs, salary, benefits, etc. Outsourcing can be an effective way to reduce business expenses during such situations.
An IT outsourcing company ensures that they stick with the budget and also deliver quality products in time. Furthermore, automation tools can reduce headcounts substantially, and increase productivity of the team as well.
Automating tasks that last longer, frees up the development team to focus on essential aspects of the project and speed up the delivery time too. For healthcare SaaS development, invoice and subscription fees can be automated. Methods for tax reductions and maximizing grants decreases expenses as well.
This was all there's to know about healthcare SaaS development cost, and if you wish to learn more about healthcare app budgeting or want to develop a healthcare application for your organization, then connect with Arkenea, which specializes in healthcare software development.
We offer varied services ranging from AI development, EHR/EMR systems, third-party integrations, and much more. Our team of expert developers will help you to create a healthcare software application that meets your demands and standards.