Talent shortage impacts organizations' scalability, business growth, and innovations. In the healthcare IT sector, talent gap affects the functioning and development of creative solutions needed to modernize the healthcare sector.
According to a report, by 2030 the skill and talent shortage in the USA alone is estimated to total a loss of $8.5 trillion. Apart from heavy money losses, the healthcare IT talent gap is due to numerous reasons such as growth in geriatric population and rapid changes in technologies which are hard to keep up with.
Wide skill and talent gap can take a toll on healthcare IT industry and impact productivity. Let's look at some of the solutions to counter healthcare IT talent gap.
1. Partner with a Healthcare IT Staffing Company
Seeking the best talent from a healthcare IT staffing company is advantageous as the single most focus of these companies is talent acquisition. Healthcare staffing companies are experts in screening and sourcing candidates. They have extensive experience in the field and know what organizations are looking for in a healthcare IT professional.
A staffing partner provides a thoroughly vetted list of greatest and top qualified talent, which is one of the time consuming tasks of the recruitment process. Furthermore, healthcare staffing agencies offer a wide talent base for a range of positions.
Organizations looking for a hard to fill position can connect with a healthcare IT staffing company such as Arkenea and get the candidate with the skillset that they require who is a right fit for the position.
Around 73 percent of the potential candidates are passive job seekers, and are looking for opportunities in the market. Staffing agencies are good at identifying these passive job seekers and recruiting them.
2. Build a Healthcare IT Talent Pipeline
Healthcare IT talent pipeline allows to recruit for not only open positions, but also for those that need to be filled in the coming future. To build a robust talent funnel, hiring managers have to create strong bonds with candidates.
Furthermore, a talent pipeline helps to improve candidate experience and their relations with the organization as well. Talent pipelines allows recruiters to answer questions, personalize messages, and automate job openings. Additionally, candidates' social media profiles and their database become a source for funneling the best IT talent.
To build the best healthcare IT talent, consider segmenting candidates according to their personas, for instance classify positions as per qualifications such as those with certification and those without one; experienced and freshers. This helps to filter out desired IT professionals.
3. Use the Four R's Model
The Josh Bersin Company, a research and advisory firm which focus on workforce and HR strategies, published a groundbreaking research, disclosing the extent to which the US healthcare organizations must adapt to reverse the impact of impending retirements, mass resignations, shortage of new nurses, and aging population in need of care.
The 'Four R's Model' created during research stands for: Recruit, Retain, Reskill, and Redesign. These four talent practices helps to deal with any talent challenge in the healthcare sector. Refer to the image below to understand this model in-depth.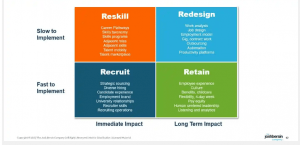 4. Ensure Innovative Talent Management Strategies
Innovative talent management strategies nurture human assets within a company, and help to recruit high-quality candidates, thereby decreasing healthcare IT talent gap.
One of the key strategies to use is to standardize talent review process through creative job description templates. An impactful job description highlights all the advantages of a new position and qualifications, thus attracting top IT professionals.
Further, streamlining the onboarding process helps new recruits to understand organizations' goals and vision, along with its culture. According to zippia, organizations with strong onboarding systems increase new hire retention by 82 percent and ameliorate productivity by 70 percent.
Managers must keep a track of and measure KPIs (Key Performance Indicators) for the team. These metrics help to track current and past performance, and solve issues to hit the goals as a team. Additionally, regular reviews and feedbacks from managers help healthcare IT professionals to hone their skills and deliver quality work.
Consider implementing initiatives to reward and recognize top performers, as this boosts motivation amongst employees. Topmost candidates are likely to apply for organizations that boost morale and confidence, which eventually diminishes healthcare IT talent gap in the organization.
5. Create Disruptive Training and Reskilling Programs
According to a report by McKinsey & Co. conducted in 2020, 87 percent of the executives said that they're facing skills gaps or expect to experience it in the near future. Hence, to avert this situation reskilling, upskilling, and training workforce (in this case healthcare IT professionals) is essential.
Reskilling and training is important to build an agile organization that can adapt to changing market conditions. This also increases productivity and retention rate as well. As per 2020 PwC survey, 20 percent of the CEOs said that their upskilling programming is reducing skills gaps and mismatches.
Training and reskilling can be incorporated through seminars and activities, however making use of employee training tools such as LMS (Learning Management Systems), video training software, and microlearning platforms can spice up the learning initiative. Lastly, ensure to monitor reskilling and training program success through feedbacks and level of employee development in the healthcare field.
6. Enable Performance Management Process
Gone are the days of annual performance reviews. The best performance management processes are ongoing and continuous that provide feedbacks from multiple sources.
Certain technology tools allow professionals to conduct self-analysis and receive coaching on mobile. Regular feedback improves communication between managers and teammates, and bolsters morale during work. Performance management process helps to identify training gaps and skills needed to enhance productivity of organization.
7. Leverage Contingent Workforce
Leveraging contingent workforce offers access to niche talents, and healthcare IT professionals who specializes in unique set of skills. These professionals don't work full-time as their talent won't be used to the full extent, for example someone who specialized in chatbot automation won't have anything else to do once the framework is created.
Further, both employees and employers enjoy flexibility and freedom within a contingent workspace. Employers are at liberty to hire and relieve them from duty once they're done with work.
8. Provide Career Development Path
Career development path helps employees to achieve their professional goals and fulfill their career. Career development opportunities within the organization itself not only minimizes healthcare IT talent gap, but also prevents employees from quitting current positions for potential roles outside the organization.
Further, employee engagement rate in their job roles increases when opportunities open up, and it also enhances job satisfaction rate as well. Mentoring programs helps to further develop high potential IT professionals and guide them through the process of career mapping.
Arkenea is a leading healthcare software development company, which also offers healthcare staffing solutions. Range of staffing services offered by Arkenea are contract to hire, contract staffing, direct hire, and statement of work (SOW).
Connect with Arkenea and leverage top-notch healthcare IT professionals for your organization that are skilled in development, design, deployment, and testing processes.