Key Takeaways
Product life cycle in healthcare helps companies to make long-term plans for medical product development, investments, marketing, and resource allocations.
Product life cycle is divided into four key stages: Introduction, growth, maturity, and decline.
Innovation is a key driver for a better product life cycle in healthcare a report states that 25 percent of the revenue is generated from the launch of new products.
A 2022 research study states that medicine shortage is common, especially if they're frequently used by people. During the three years research period, a total of 3,526 medicine shortages were reported and the duration of the shortage was 83 days. This hampered 660 active pharmaceutical ingredients. To avoid such conditions, deeply understanding the product life cycle in healthcare is essential.
Medicines, medical devices, and healthcare software whose product life cycles change are likely to face shortages. Knowledge of product life cycle in healthcare ensures better time-to-market, improved features, innovations, and steady revenue flow.
Benefits of Product Life Cycle in Healthcare
The product life cycle helps with strategic business planning. Healthcare companies can make long-term plans for medical product development, investments, marketing, and resource allocations. Depending on what stage a medical product is, companies can strategically plan out their moves.
Further, the product life cycle in healthcare promotes sales forecasting based on product progression. Healthcare companies can refer to previous product life cycle processes and avoid past mistakes. They can determine the product stage and plan out measures to assure success.
The product life cycle gives market insights that help companies to decide their strategies. They can analyze competitors' sales and predict product life cycles to stay competitive.
Moreover, the product life cycle helps to establish a brand image and attract the target audience. Not only this, the product life cycle determines whether to introduce or discontinue the product in the market.
4 Stages of Product Life Cycle In Healthcare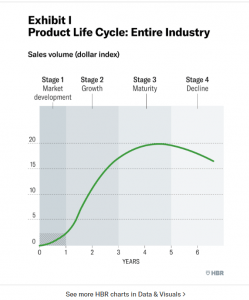 1. Introduction
This is the first stage of the product life cycle across all industries including healthcare. In this stage, companies try to build awareness of their products or services in the market.
Market promotion is at its highest and companies invest in capital to promote a product or service. This is best represented in Apple's famous launches which showcase new features of their new products. Once healthcare companies make adequate publicity via advertising, press releases, or social media, they can go ahead with the pricing strategy.
Product pricing in the introduction stage is essential to gain market share. One of the popular and common pricing strategies used is the skimming price tactic. In this pricing tactic, companies usually charge a very high rate to consumers who are willing to purchase that product.
The best example of a skimming tactic is mobile phones. Here, the mobile manufacturers start with the highest price, and with time eventually, the price of the latest mobile version drops as new ones are released.
Apart from this, at this stage, companies can comprehend consumers' reactions to their products and then determine whether they'll be a hit or not.
2. Growth
The growth stage is crucial for healthcare companies as this stage is important for setting a product's position, increasing sales, and improving profit margins.
In the introduction stage, the costs are high, but in the growth stage, the rates decrease drastically. The demand and supply chain are well-balanced. As manufacturers increase production to meet the demands of consumers, the costs are reduced.
Further, during the growth phase, consumers are more aware of the product. This indicates that the market size will surge and the demand will accelerate. These all aspects result in exponential growth in sales. Low costs and more sales increase the profit margin.
3. Maturity
The maturity stage is challenging and companies focus to maintain their market share in the face of several hurdles. Economics scale at the growth stage and the cost of products decreases, and this continues in the maturity stage as well.
More efficient product development ways are introduced which lowers the costs even further. As the market reaches a saturation level, companies can grow their business through other methods. For instance, the use of innovative campaigns, diverse features, and the introduction of new products under the same brand.
In the maturity phase, the sales volume peaks, and the majority of the customers who are willing to purchase the product have already done so. Additionally, this phase sees the highest competition levels and it becomes challenging for companies to maintain their market share. Apart from this, profits start to decrease as well and they are shared by competitors in the market.
4. Decline
In the final phase, the market for healthcare products starts to decline. Consumers stop buying healthcare products in favor of something new and better. As a result of decreasing market, sales start falling and the overall profit is reduced as well.
To avoid this, companies can try to increase their market share through innovative features and offers. If the product isn't giving good returns, then it's time for manufacturers to remove the product from the market before they start losing money.
3 Tips for Better Product Life Cycle in Healthcare
1. Innovation
Innovation is a key economic driver and brings in lucrative opportunities. According to a report by McKinsey, more than 25 percent of the total profits and revenue come from the launch of new products. Hence, it becomes easier for companies to scale their businesses and grow the revenue margin.
Conversely, the McKinsey report also states that 50 percent of the new launches fail to hit business targets. Common reasons for this failure are competitors and the inability to meet market needs. Product innovation improves product life cycles and gives businesses a competitive edge in the market.
Product innovation answers the consumers' needs and current requirements, also continuous innovation becomes a core part of a company. Sometimes, healthcare companies miss out on innovating their products and fall hard due to upcoming robust competitors. However, innovation is the key to bouncing back into the market with enhanced motivation.
Product innovation brings in more profits and helps to conquer new markets in the forthcoming years. Not only this, but during the maturity and decline stage of the product life cycle, innovation creates new demands in the market.
There are mainly three ways in which a product can be innovated and these are creating new products, improving the existing ones, and adding new features.
Apart from this, the Blue Ocean strategy developed by W. Chan Kim and Renée Mauborgne in their book includes frameworks and sets to capture the 'blue oceans' market, which represents the unexplored areas of the market. The authors point out that companies can make space for themselves by creating an uncontested market.
2. Reduced Time-to-Market
Apart from innovation, reduction in time-to-market further improves the product life cycle in healthcare. A shorter product development process helps to keep pace with the growing technology. Understanding time-to-market helps to create a smooth development experience for the entire team.
Products are launched in the market at a faster rate, and scalability improves and gives value to consumers. As per a 2019 report by Gartner, 45 percent of product launches are delayed by at least one month.
Reasons for late launches are failure to meet consumer needs, lack of formal launches, and delays in product development. This eventually hampers the entire product life cycle of the healthcare sector. Hence, to avoid this, it's necessary to put in more effort to improve time-to-market. Reducing time-to-market not only helps to build consistent product releases but also ensures a predictable revenue model.
3. Partnerships and Collaborations
Partnerships and collaborations are beneficial for surging revenue through reselling, carriers, independent vendors, and distributors. Partners can make use of their extensive network to broaden the market reach of a product or a service.
Furthermore, collaborations create new opportunities and help companies launch their products in a diverse market. Partnerships also fuel product innovations. According to the Harvard Business Review, 94 percent of tech executives see innovation partnerships as a necessity for product growth.
Moreover, innovation-driven partnerships can offset research and development expenses, add flexibility to daily operations, and upsurge commercialization. Overall, strong partnerships give strong results.
Wrapping Up
A long product life cycle in healthcare ensures operational consistency as medical devices and software can be used for a longer duration. In addition to this, FDA (Food and Drug Administration) approvals take place in stages, hence a long product life cycle ensures that all stages of FDA approvals are cleared without any hindrances.
The long shelf life of a healthcare product reduces development expenses, as there's no need to create more medical devices/software. Low development costs indicate fewer overhead expenses and more profits.
If you want to know more about this or are looking to set up healthcare software for your facility, then connect with one of the leading healthcare software development companies, Arkenea.
Our team of experts will guide you on the development process and ensure that you get the best healthcare software for your organization.