Healthcare practitioners or medical organizations debate the choice of EHR platform: Epic or Cerner. Which one is better or which one to choose? This thought crosses the mind because the two have a huge pricing difference. Everyone wants the best at the least possible cost. Moreover, whether the desired EHR platform carries the required functionalities and features also puts practitioners in a dilemma. There's no doubt that these two giants are best at what they do. But which one works for you?  
Epic vs Cerner: these two EHR companies have been competing to be the best in the market. As per the 2022 KLAS report, Epic EHR holds 35.9 percent of hospital market share and Oracle Cerner stands second with 24.9 percent. Meditech, CPSI, and Altera Digital Health are ranked subsequently.
The right electronic health record with the required features helps to upsurge a healthcare organization and drives the magnitude of patients each day. So, Epic vs Cerner, which one is the right choice? This article will help to understand the two better.
Epic vs Cerner: A Comparative Analysis
1. Epic vs Cerner EHR: Pricing Differences
Getting an actual figure can be tricky because neither of the EHR companies has stated a number of their websites. But, based on our research, here is a rough estimate that you can consider.
Let's talk about Cerner first.
Recent updates suggest that the cost of Cerner EHR is $25 per user per month. However, the cost of Cerner can touch millions of dollars, given the size of the medical organization, training, maintenance, customization, complexity, and features.
Cerner EHR is an off-the-shelf solution, but it can be tweaked and customized as per the requirements of healthcare providers. Depending on the features or integrations added, the pricing for customized Cerner EHR can range anywhere between $1000 to $1,000,000. The cost depends on the number of users and the size of the medical organization.
| | |
| --- | --- |
| Size of the Medical Organization | Cost of Cerner EHR (per user per month) |
| Self Hosted/Single Practitioner | $25 |
| Small-Size Clinic (1-250 beds with over 200 staff) | $25 to $2,250 |
| Mid-Size Hospital (50 to 400 beds with over 500 staff) | $6,600 to $40,000 |
| Large Hospitals and Hospital Chains (500+ beds with over 1000 staff) | $14,925 to $100,000 |
A $25 subscription may not include the training, maintenance, and data migration costs, they all are added to the total cost of Cerner EHR implementation. So, the upper limit is not fixed. To get an accurate cost of Cerner EHR, get a custom quote based on the requirements of the healthcare organization.
Now let's talk about Epic EHR.
Compared to Cerner, Epic costs a bit more. The cost of Epic can range anywhere between $200 to $35,000 per month, the pricing can go higher if aspects such as training, maintenance, data migration, customization, size of hospital, and complexity are added to it.
In a recent development, Aspen (Colo.) Valley Hospital, based in Colorado invested millions of dollars in Epic EHR implementation. The cost to license Epic for the hospital was $6.1 million, with additional training, staff, new interfaces, and installing Epic-compatible systems bringing the total cost to $16 million. 
Apart from this, the cost of customized Epic EHR can vary anywhere between a few thousand dollars to millions of dollars because any major development in an off-the-shelf solution will increase the pricing. 
| | |
| --- | --- |
| Cost Parameters | Cost of Epic EHR |
| Monthly Expenses | $200 to $35,000 |
| Self-hosted | $1200  |
| Mid-Size Hospitals (50 to 400 beds with over 500 staff) | $10,000 to $10 million |
| Large Hospitals (500+ beds with over 1000 staff) | $5,00,000 and above |
| Training (depending on number of users and size of hospital) | $2000 to $10,000 |
| Maintenance (depending on number of users and size of hospital) | $2000 to $10,000  |
2. Distinction in Interoperability
Speaking from an interoperability point of view, both Oracle Cerner and Epic have undertaken significant measures to provide seamless data exchange for healthcare organizations. 
Research points out that Epic struggles with third-party integrations and is comparatively less interoperable than Oracle Cerner EHR. 
Significant steps undertaken by Epic to boost interoperability are:
Epic is a part of the Careequality Interoperability Framework along with four other competitors. This program agrees to provide health information exchange services for users.

A toolset that was kickstarted more than a decade ago by Epic: Care Everywhere is still being used to ensure interoperability. As per a news published on the Epic site, Care Everywhere is utilized for 220 million patient record exchanges per month, and 50 percent are from platforms other than Epic.

The next measure: EpicCare Link allows non-interoperable users to check patient data. It is a free web-based portal that offers healthcare providers access to records 24/7. 

Share Everywhere is another tool that allows users (mainly patients) to temporarily share their records outside the Epic network (family or friends). A one-time-use code is generated for others to view the medical records.

Epic Community Connect offers enhanced interoperability, along with other benefits such as easy access to EMR and regulatory confidence.   
 Measures Taken by Oracle Cerner to improve interoperability are:
Oracle Cerner is a founding member of the CommonWell Health Alliance that aims to augment interoperability by connecting systems and making healthcare data exchange easier. 

Cerner Ignite APIs are another initiative that offers third-party integration options for healthcare organizations. 

The new Oracle Health Seamless Exchange can be a game-changer in interoperability because it assures better data exchange and simple workflows, along with better patient care and elimination of duplicate data.

Oracle Cerner has partnered with Apple for healthcare data exchange from iPhone and Apple Watch with care providers or family. Also, with the Code Developer Program, providers can opt for telehealth visits via seamless integration with MS cloud-based healthcare service.   
Both Oracle Cerner and Epic offer multiple interoperability measures, but the former ensures better interoperability cases and the latter provides advanced connectivity amongst systems. 
3. Variability on Ease of Use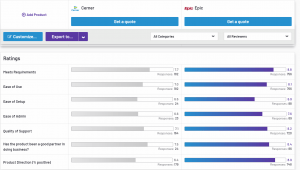 Source: G2.com
Epic vs Cerner: which one is easier to use? Ease of use and convenience depends on how simple it is to navigate through the software. 
Both Cerner and Epic offer more than 20 different features and integrations, it can get confusing for users to find their required features. EHR software training offered by both Cerner and Epic helps users familiarize themselves with the software functionalities. 
Speaking from a research perspective, Cerner EHR offers a great user interface, but users may find issues while navigating through the EHR portal. The staff may require vigorous training to learn how Cerner works. 
On the other hand, Epic EHR may seem a bit outdated, but offers seamless navigation. Reviews state that can be a bit confusing due to a variety of features provided by Epic EHR.
4. Comparing Customer Support Skills
Both Epic and Cerner EHRs have a strong team that handles customer queries regarding maintenance, updates, or technical aspects. 
For users who cannot through a support staff via call, Oracle Cerner offers eService, in which you can log a ticket, it is available 24/7.
Cheers is Epic's CRM platform that helps medical professionals and other staff improve the efficiency and functionality of their healthcare systems. It also helps them to improve patient engagement. An article on Epic's newsroom states that after launching Cheers, in the first five months, 9000 patients activated their MyChart account (Epic's patient portal), staff answered over a million calls in 2 years, and brought in 2,400 new patients.
Custom EHR Development: A Viable Option Over Epic and Cerner
Off-the-shelf EHR solutions like Epic and Cerner can only offer limited feature and design enhancements. However, with customized EHR software healthcare practitioners have the liberty to opt for the features and integrations that they want. Clinics can even design their software with the colors that best suit their practice. For example, pink color represents breast cancer treatment, so a pink-colored EHR can enhance user experience.
Furthermore, customized EHR software can be more expensive than an off-the-shelf solution, but practitioners can gain more ROI with the functionalities that they require. Also, patient experience augments with unique, tailored-made healthcare applications, thereby increasing not only retention rate but also engagement.
You can always get your choice of features and integrations, including UI/UX design with customized EHR software offered by Arkenea, one of the leading healthcare software development companies in the USA. Arkenea offers customized EHR software solutions that will meet all your requirements.     
Epic vs Cerner: Which One to Choose?
Cerner and Epic offer two of the most advanced electronic health record services available. Both platforms will provide modern software that enables users to complete tasks more quickly and efficiently. However, it is important to note that each software will have a distinct advantage over the other in terms of user experience, features, functionalities, customer support, and pricing.